Platform24 Pathways stands as a pivotal component within an expansive system, synergising seamlessly with an array of virtual healthcare capabilities. From precision triage, ensuring patients are channelled to the appropriate level of care, to streamlined booking functions and virtual consultations spanning patient-to-provider and peer-to-peer interactions. This unifying approach ensures that patients encounter a singular entry point to the healthcare journey, irrespective of their specific needs.
At its core, Pathways embodies a realm of potentialities for remote patient monitoring, transcending the constraints of diagnosis count. A pliable platform where caregivers wield the ability to curate questionnaires and hardware, culminating in a bespoke experience for patients. This agility equips caregivers to serve diverse patient cohorts, from those navigating complex chronic ailments to those traversing periodic afflictions. The system seamlessly moulds itself to match local nuances and operational modalities, empowering caregivers with the tools they need to optimise patient care.
Let us explore four distinct use cases, illuminating how our platform caters to individuals with multifaceted healthcare needs. From childhood to senior years, from sporadic ailments to enduring conditions, the power of remote patient monitoring comes to the fore.
Four diverse use cases illustrating the power of Pathways
Use case 1: Navigating multi-morbidity
Lena, 65-year-old,Laisvall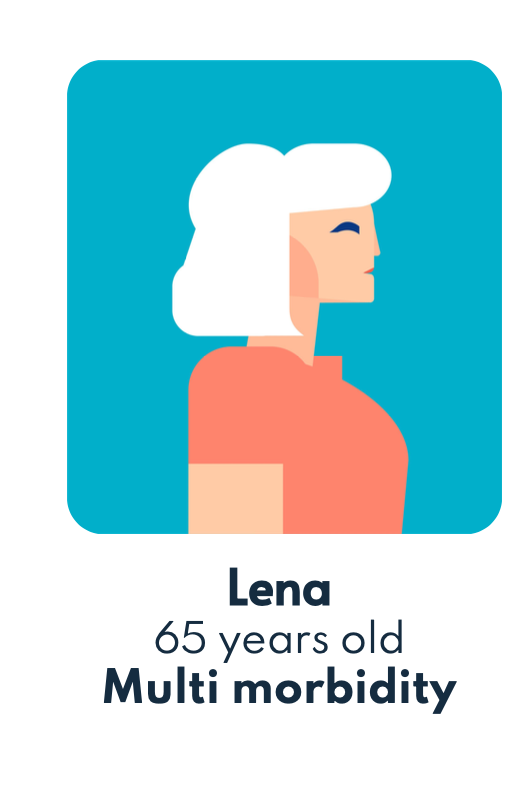 Meet Lena—a resident of Laisvall in Arjeplog municipality, Norrbotten county. Lena grapples with a constellation of health challenges: new-onset type 2 diabetes, established hypertension, hyperlipidemia, and a BMI indicating overweight (obesity). Historically, Lena's healthcare journey revolved around sporadic primary care checkups and intermittent laboratory tests, each requiring her to undertake extensive journeys.
To simplify Lena's care, her health practitioner at the local health centre sets up a self-monitoring plan, using Pathways. Recognising the intricate interplay of her conditions, Lena's doctor orchestrates a comprehensive self-monitoring regimen The plan encompasses not only the emerging diabetes and hypertension but also dietary and exercise monitoring – a holistic strategy aimed at stabilising her overall well-being and fostering sustainable weight loss.

The power of Pathways lies in its adaptability. In Lena's case, the monitoring frequency commences at an intensive rate during the initial fortnight, gradually tapering over the course of the inaugural year. Eventually, routine measurements become sparse, with an exception around her annual health check-ups. During these pivotal moments, the system collects a surge of data points, empowering Lena's doctor with an enriched dataset to guide more informed decisions.
Use case 2: Seamlessly bridling emergency self-monitoring across organisational boundaries
Omar, 45 years old, Stockholm
Meet Omar – a resilient 45-year-old facing an unexpected medical ordeal. One fateful day, Omar is gripped by a heart attack, leading him to the heart clinic through a swift intervention via the emergency department. As he journeys toward recovery, the narrative of Omar's care exemplifies the crossroads of healthcare organisational boundaries.
Upon his discharge, the heart clinic extends its care horizon beyond its physical confines. Omar is entrusted with a self-monitoring plan, all from the comfort of his own abode. The home-based monitoring is seamlessly coordinated between the heart clinic and Omar's individual needs, spearheading his prevention rehabilitation.
A year later, Omar's journey comes full circle as he arrives for a pivotal check-up at the specialist heart clinic. The diligent assessment by a heart nurse confirms his stability. With this endorsement, Omar is passed to his primary care physician, empowering him to continue the healing trajectory within the familiar confines of his local healthcare ecosystem.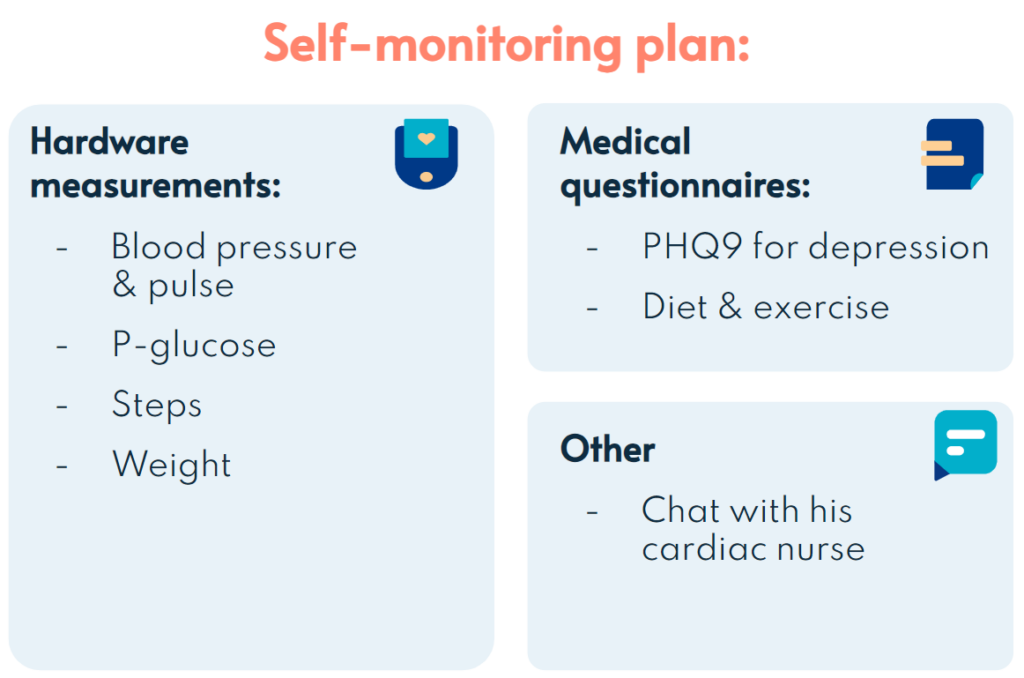 Omar has discovered that the act of measurement can be taxing at moments; however, he simultaneously recognises its intrinsic value. The memory of his heart attack, a harrowing experience that evoked genuine fear, remains vivid in his mind. Despite the occasional weariness stemming from the monitoring process, Omar acknowledges that every effort expended has been justified by the sense of security and well-being it brings.
Use case 3: Simultaneous self-monitoring across primary and specialist care
Milicia, 33 years old, Gothenburg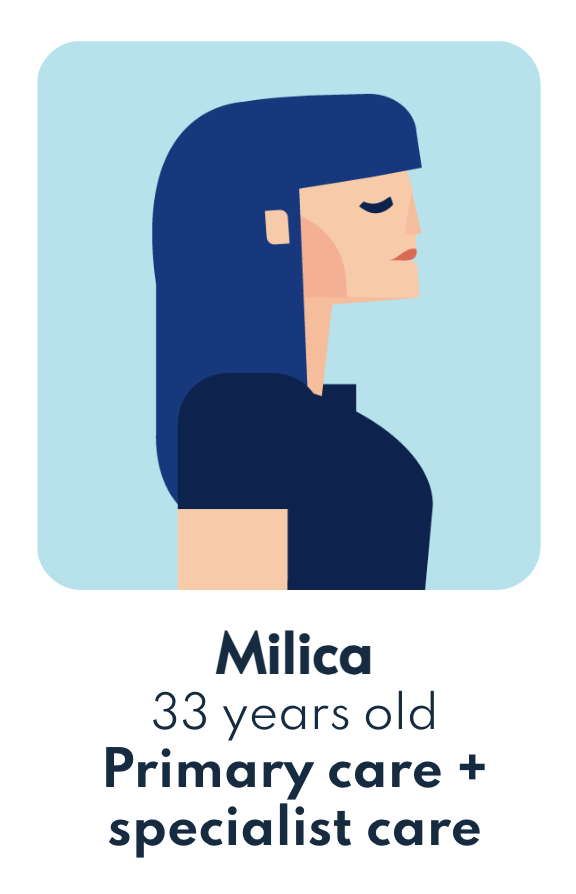 Now we introduce Milicia – a vibrant 33-year-old living in the heart of Gothenburg. Embracing the journey of her second pregnancy, Milicia's medical history adds a layer of complexity to her prenatal experience. Having previously navigated the terrain of relatively stable asthma, a well-maintained condition under primary care vigilance, Milicia finds herself standing at a familiar crossroads.
At week 18 of her pregnancy, an encounter with the midwife reveals a recurring concern: elevated blood pressure. A haunting echo from her first pregnancy, this signpost necessitates action. Swiftly, a referral is dispatched to the realm of specialist maternity care, setting the stage for a seamless transition between primary and specialised attention.
Intricately interwoven into Milicia's care trajectory is the introduction of self-monitoring of her blood pressure, to harmonise her health narrative. This strategy offers Milicia a dual-layered guardianship, fusing the vigilance of primary care with the specialised focus of maternity expertise. With the flick of a wrist, she becomes an active participant in her well-being, contributing to the dynamic tapestry of her maternal journey.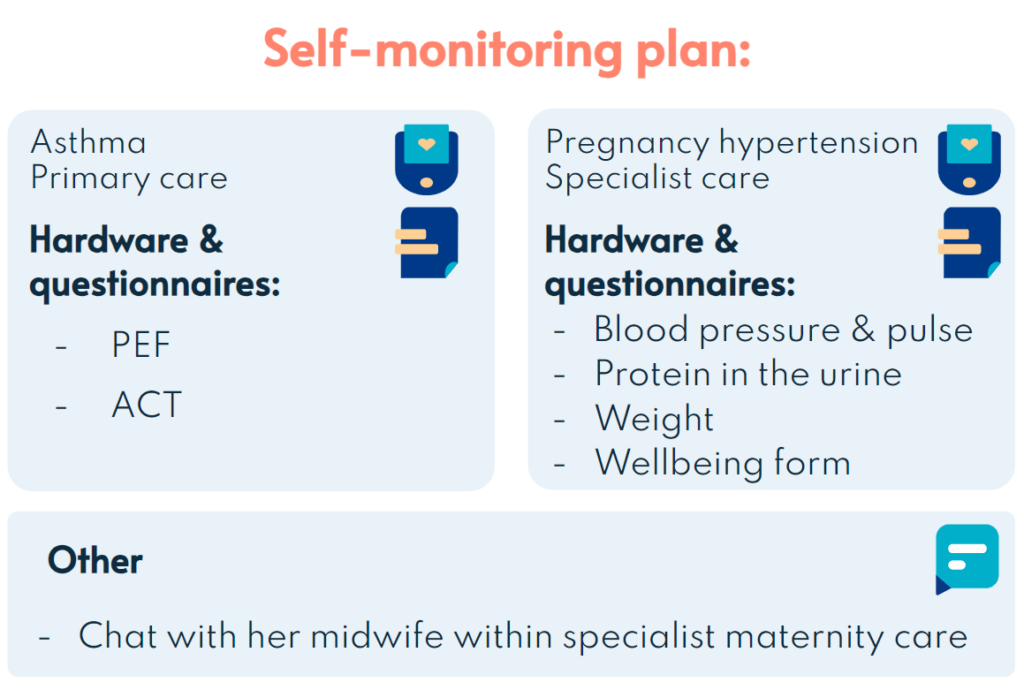 Milica experiences a profound sense of reassurance as her midwife diligently oversees her well-being. This newfound security empowers her to seamlessly orchestrate her daily routines without the frequent trips to the maternity clinic that marked her initial pregnancy journey. The burden of travel, a memory from her past pregnancy, now gracefully recedes, granting her the luxury of focusing on life's everyday intricacies.

In the continuum of post-pregnancy care, Milica remains guided by a steadfast commitment to her health. Beyond childbirth, the guardianship persists. Primary care continues the monitor her asthma management, coupled with the meticulous tracking of blood pressure until it attains a state of steadfast stability
Use case 4: Empowering adolescents in oncology
Anton, 14 years old, Trollhättan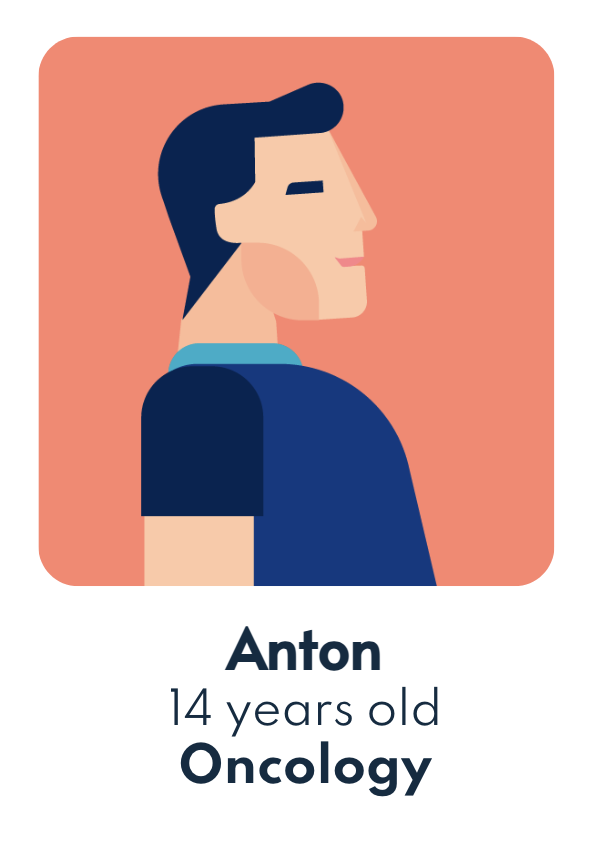 Meet Anton – a 14-year-old from Trollhättan. Amidst the vitality of his adolescent years, Anton faces health challenges – acute lymphocytic leukaemia (ALL). As his medical narrative unfolds, it becomes apparent that Anton's path has been fraught with the challenges of intensive chemotherapy – a treatment regimen not without its formidable symptoms. He also has a known risk of neutropenic fever.
Anton's journey bears witness to the physical and emotional toll his treatment inflicts. Amidst this intricate landscape, Anton's well-being necessitates a multifaceted approach. Here, Pathways manifests in its ability to offer more than just clinical care – it serves as a cornerstone for his psychological fortitude, as a counsellor is added to his self monitoring plan.
Anton finds a sense of empowerment in his ability to transmit data directly to his care provider. Moreover, he appreciates the possibility to connect with his counsellor, especially during moments of heightened emotional weight.
For Anton's parents, the platform proves to be an invaluable ally. The seamless chat functionality with the contact nurse emerges as a lifeline, enabling them to seek guidance on days when Anton's condition takes a more challenging turn.
Empowering personalised care and collaboration
By monitoring all these conditions with relevant hardware and questionnaires at home, Lena, Omar, Milica and Anton can have better life quality and better mental and physical well-being. They can spend more time with family and friends, at work or at school, or doing other activities instead of frequently needing to go to healthcare units. At the same time, they can feel safe that professionals are keeping track of their condition and can act proactively upon it to ensure they stay well and prevent major deterioration.

By focusing on the patients themselves rather than their specific diagnoses, we have created a comprehensive platform that empowers caregivers to deliver personalised and effective healthcare solutions. Through our modular and hardware-agnostic approach, we aim to showcase the broad use cases for remote patient monitoring. We are committed to being at the forefront of the RPM landscape, leveraging our unparalleled medical and technical expertise to position ourselves as a leading player in the field.

The use cases we explored in this blog post highlight the transformative impact of Palatform24 Pathways and remote patient monitoring across various healthcare scenarios. Lena, Omar, Milica, and Anton represent different patient profiles, each benefiting from the convenience, safety, and improved quality of life that Pathways provide. By enabling patients to monitor their conditions at home and facilitating proactive interventions, we ensure their well-being and prevent major health setbacks.

At our core, we believe in a patient-centric approach that transcends organisational boundaries. Our system seamlessly integrates with different levels of care, fostering collaboration between primary care, specialists, and patients themselves. Whether it is managing multiple chronic conditions, supporting patients during critical periods, or empowering pregnant women and oncology patients, our remote patient monitoring system is the catalyst for positive change.

We invite you to join us on this transformative journey towards a future of patient-centred healthcare. Together, we can unlock the full potential of remote patient monitoring and make a lasting impact on the well-being of individuals worldwide.
Curious to learn more about our Pathways solutions? Reach out!
Written by
Aleksandra Dennier
RPM Lead / BD Manager (Growth)
Want to get blog posts straight to your inbox? Fill out the form and we'll send them to you!