Reduce time spent on administration
Get the right patients, at the right time, to the right resources
Simplify appointment scheduling and rebooking
Make sure the right patients are scheduled for care
Route patients to the appropriate level of available care
Enhance patient engagement
By empowering patients to manage aspects of their care journeys themselves, you can:
Decrease Administrative Burden: Streamline administrative processes.
Activate Patients: Encourage patients to actively manage their care journeys.
Reduce Waiting Times: Free up provider time for complex patient care needs.
Automate routine administration tasks by allowing the patients to perform them themselves – from anywhere
Our triage logic is based on established national triage protocols and is constantly evolving and improving.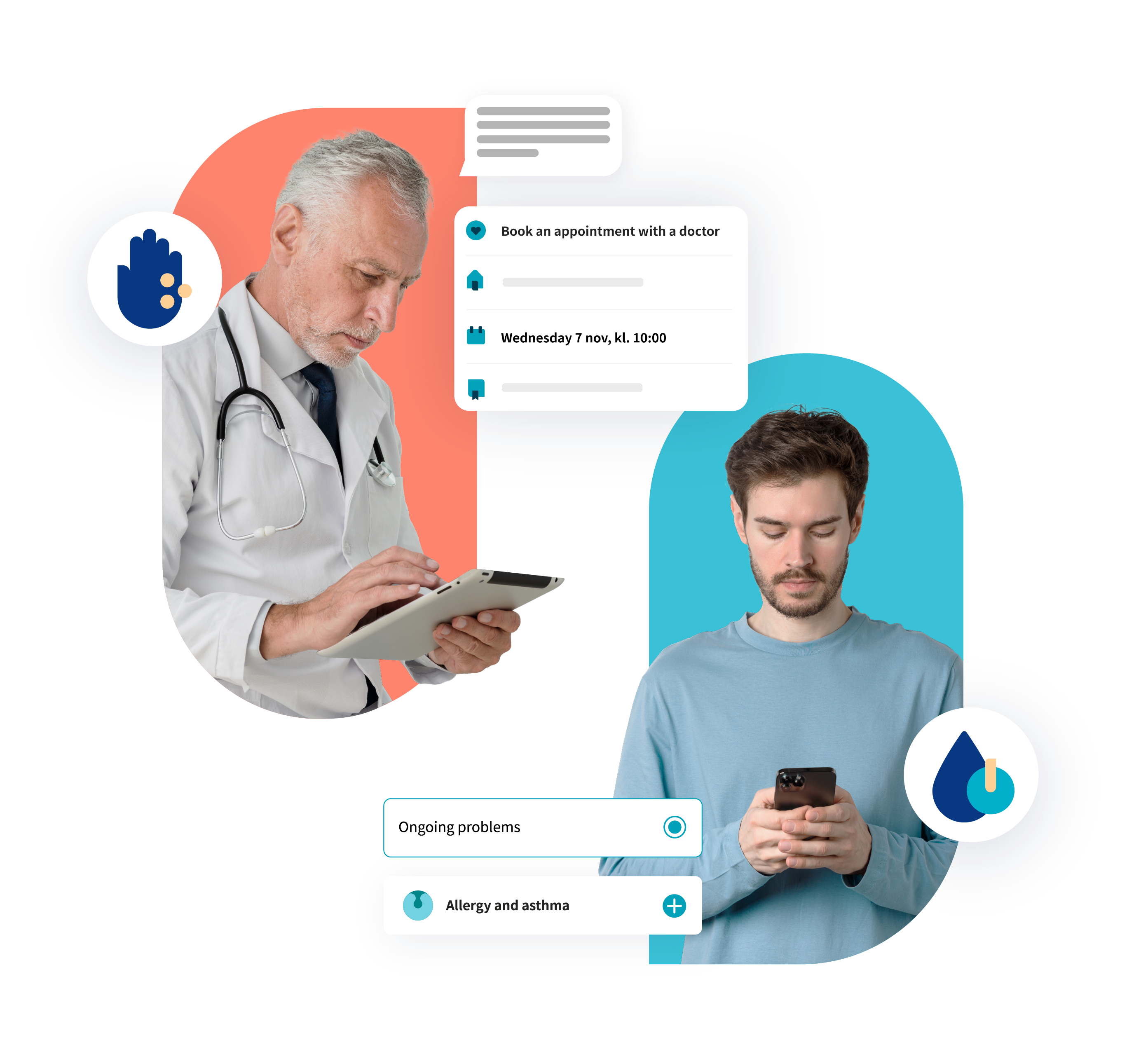 We understand that different businesses have unique requirements for medical questionnaire, triaging tools and routing of patients. That is why we offer both standardised and medically validated content that adheres to national protocols.
We offer you the flexibility to customise or create your own forms to meet your specific needs and the ability to create your own routing rules and mechanisms.
Change, tweak or build your own forms
Build your own business logics
Efficient tool for scheduling appointments
Our appointment scheduling tool is designed for efficiency and convenience. We prioritise patient autonomy and engagement while ensuring medical priority and operational efficiency.
Patient-initiated bookings:Patients can take control of their healthcare by booking both physical and virtual visits. Our system intelligently allocates available time slots to the most appropriate patient groups based on customizable criteria.
Clinician-initiated bookings: Clinicians have the flexibility to schedule appointments directly for patients or send a booking ticket to patients, empowering patients to make the booking themselves.
Patient re-booking: Patients can easily cancel or reschedule appointments through our user-friendly interface, providing a hassle-free experience.
Digital questionnaires to increase flexibility 
Save valuable time by sending medical questionnaires to patients before or during their appointments. Patients can conveniently answer the questions at their own pace and in their preferred manner.
The responses provided by patients are automatically summarised into comprehensive medical notes. This streamlined format makes it easy for clinicians to review and use the information effectively.
Our digital questionnaires offer versatile applications:
Standalone forms: Utilise individual forms as standalone tools for specific purposes
Care plan building: Combine multiple forms to construct comprehensive care plans using our Pathways product
Customisation:Tailor and fine-tune forms to create bespoke solutions that align perfectly with your unique business needs.
Guide the patient to the right care
Our automatic triage system provides medically sound recommendations, reducing manual work for clinicians and allowing them to focus more on patients in need of appointments.
Automatic triage offers consistent and unbiased assessments based on primary symptoms, adhering to medical guidelines with exceptional accuracy (96% compared to 55% with manual methods).
Optimise resource allocation
Enhance resource utilization through intelligent supply and demand matching:
Routing enhances the power of triage and medical questionnaires by tailoring recommendations based on available healthcare resources.
The system prioritises both resource availability and care continuity, factoring in patient-specific considerations and local supply conditions.
Get full control of your medical content
Achieve complete control over your medical content with our platform, providing you the freedom to tailor it to your exact specifications.
Full flexibility: Our platform offers full flexibility, enabling you to adapt the content, logic, and medical outputs to suit your unique requirements.
Standardised Content: Access a vast repository of medically validated content that adheres to national protocols, ensuring the highest standards of quality and accuracy.
Tailored Solutions: Harness the power of customisation by creating your own forms to address specific needs. These forms are designed to align perfectly with your unique business goals and objectives.
Custom Business Logic: Craft and implement your own business logics effortlessly, allowing for seamless adaptation and integration within your existing healthcare ecosystem.
With our platform, you're in the driver's seat, empowered to shape your medical content precisely to your liking. Your control, your solutions.
This site is registered on
wpml.org
as a development site.